This month, we're highlighting some of the latest and greatest offerings from our vendor partners at Biotherm Heating Solutions.  Since their inception in 1980, Biotherm has been a leader in commercial Greenhouse heating, hydro sciences and optimized air technologies.
The first product we'd like to review is Biotherm's Roll'N Grow Heating Mats.  Roll'N Grow gives your plants the root zone heating they thrive on with less hassle and more versatility than ever. Like a carpet, Roll'N Grow covers your growing surfaces with growth-enhancing gentle heat.
The benefits of this type of heating are well documented, reduce fuel costs, increase production, more compact plants, and reduce disease problems.  This heating tech saves money while providing microclimates around your plants that will help optimize your grow and make your facility more sustainable.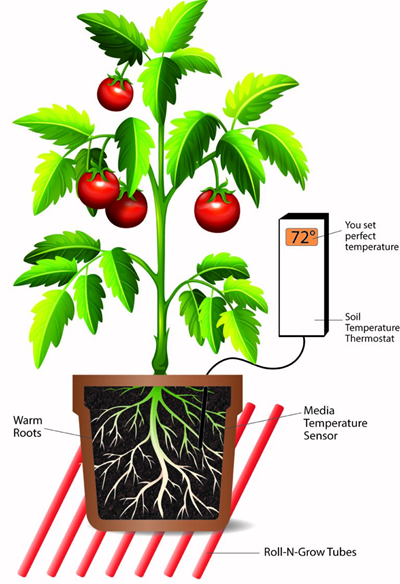 This is one of the easiest heating systems on the market to install and it provides amazing Root Zone Heating to your plants.  Click on Roll and Grow Installation to see a video of an installation of 50,000 sq ft which took 3 guys 3 days to install.  This is a floor grow but works the same on benching.
The next product we'd like to discuss is Biotherm's Plug-and-Play Rootzone Heating Product, "Upstart," a professional rootzone heating kit using Roll'N Grow heating mats and a locally acquired domestic hot water heater.
By attaching the Upstart's head unit to a domestic hot water heater, hot water is pumped through Roll'N Grow heating mats. Plants are placed directly on the mat set atop either the floor or benches. The media temperature sensor tells the heating unit when to cycle on and off to maintain optimum media temperature.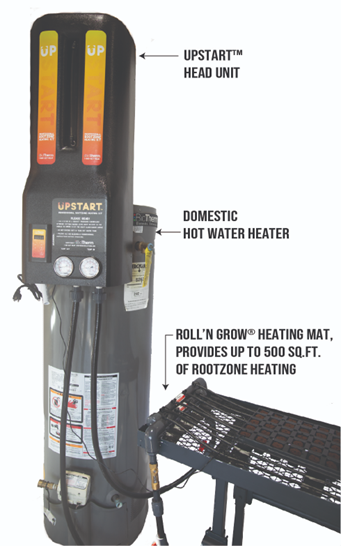 Hydronic heat is a rugged, reliable system that delivers safe, efficient, and responsive heat at a lower operating cost compared to electric-based alternatives.
"The benefits of hydronic rootzone heating are well documented – some growers say they won't produce plants without it," says Jim Rearden, BioTherm's President. "Upstart is our way of bringing affordable rootzone heating to all growers, regardless of their facility size."
The Upstart is designed for growing areas 500 sq. ft. or less, but systems can be combined to address greater growing areas.
"The Upstart system is a great solution for both greenhouse and large-scale indoor propagation, and the direct heat source the Roll N' Grow mats provide is both energy efficient and beneficial for increasing plant growth rates."" – CW Senior Account Manager, Brent DeArmond
Check out the Upstart Rootzone Heating Kit video here.
Contact us to learn more about Biotherm's latest offerings and how they can be additive to your facility.