At CW, we recognize that some of the products, suppliers or manufacturers we represent are not a perfect fit for every project or application, which is why we work with hundreds of different vendors from the smallest to the largest agriculture equipment suppliers in the world.
We've built our business and our reputation on delivering the best solutions to our customers, not on representing one product over another.
This month we're highlighting our partnership with a world-wide leader in air distribution for vertical racking systems, FabricAir.  
Headquartered in Denmark, FabricAir designs and produces custom air dispersion and air distribution solutions. In 1973 they installed the world's first fabric ducting system, which heralded a whole new way of thinking within HVAC/R and IAQ.
Whether you need overhead or multi-tiered air distribution FabricAir along with the team at Cultivation Warehouse, can provide custom engineered solutions that never condensate, are easy to install and clean, and can provide even air distribution at precise velocities throughout your grow space eliminating potential micro-climates. Most importantly a FabricAir system offers improved performance and efficiency and can be delivered at an overall cost savings compared to metal ducts.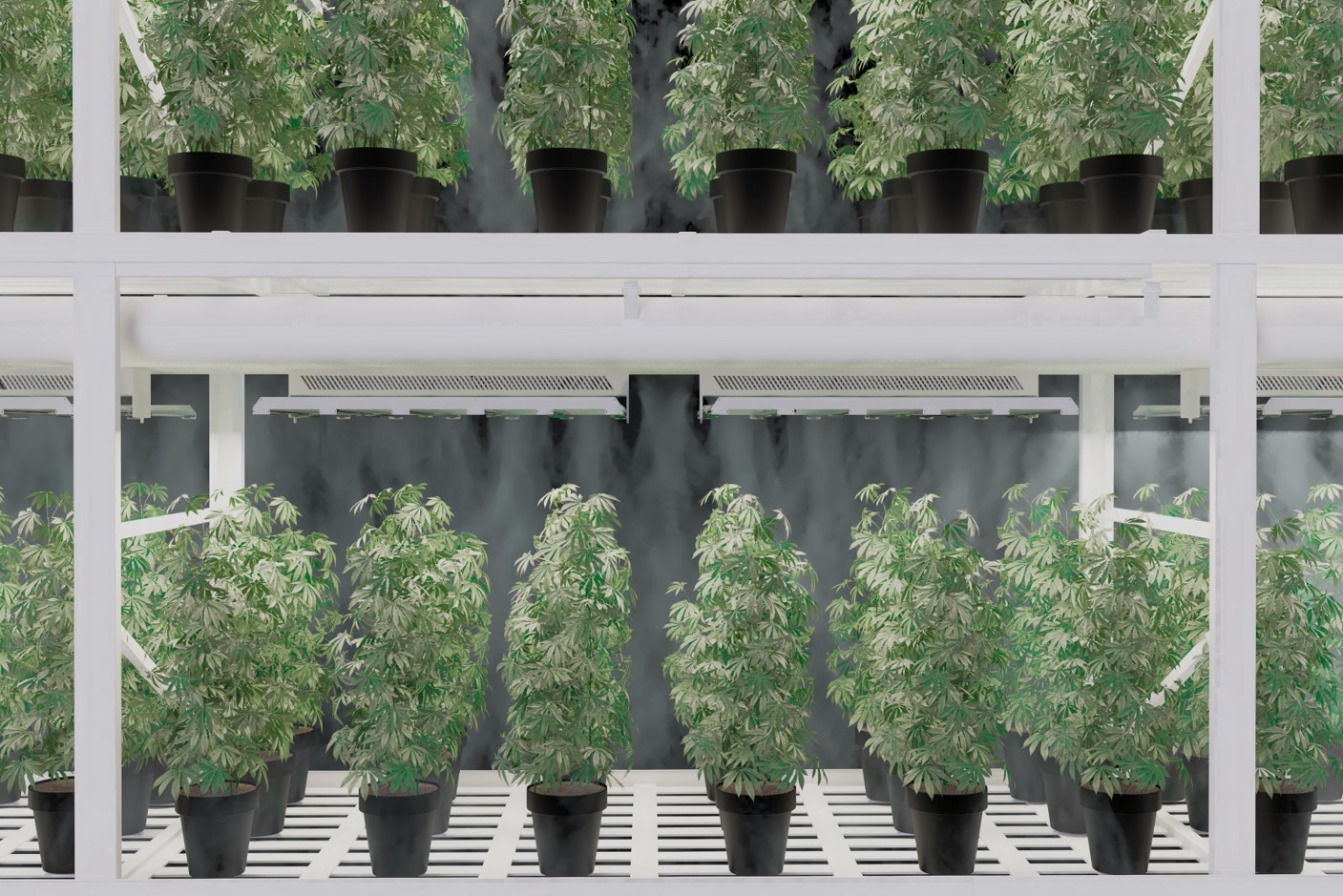 Multi-tier facilities require a specific approach to airflow to maximize success. Likewise separate rooms and environmental conditions required by cannabis cultivators benefit from customized linear vents to deliver precise air velocities to the canopy.
FabricAir's consistent air distribution system penetrates even the thickest plant canopies, promoting optimum transpiration, which enables plants to absorb more water and nutrients.
The system is among the most energy efficient air delivery approaches available for multi-tier racking. Deploying Energy Star rated ECM fans and fabric ducts with linear dispersion provides uniform air distribution to the entire plant canopy while maintaining peak efficiency at any speed. Efficiency is also increased by eliminating plenum boxes that restrict airflow. It also easily integrates into grow space control systems through 0-10V or PWM controls to maximize efficiency and deliver air as needed throughout the grow cycle. Rack Flow is simply the most efficient system, providing more air volume to the plant canopy per each watt consumed.
The FabricAir Rack Flow System is compatible with any brand rack, any light grid, and any grow automation system, and it's more affordable than you might think! FabricAir's Rack Flow System is a complete solution that includes fabric ducts, ECM fans, mounting brackets and all necessary hardware.
Eliminates microclimates

Reduces energy consumption

Compatible with all light grids and racks

Washable, antimicrobial fabric

Integrated CO2 delivery streamlines gas exchange

Uses variable speed EC motor fans

Simple integration to automation systems

Easy to install and maintain

Quiet operation

Hygiene Matters
Manufactured with antimicrobial fabric, the ducts are easy to remove and wash. The Energy Star rated ECM fans are a snap to clean, and no plenum boxes means there are no places for mold and mildew to hide. Installing and sanitizing are simple tasks that can be done four to six times faster compared to conventional solutions.
"It is always a pleasure to work with Cultivation Warehouse." says FabricAir's  Engineering Manager Phillip Daugherty.  "The team at CW is knowledgeable, professional, and always keep their client's best interests paramount.  
Give us a call if you want to explore how FabricAir can fit into your operation.
Check out FabricAir's system at one of our partner's veg facilities (Northeast Alternatives, Kalkaska, MI):