Customer Spotlight: Airfield Supply Co.
A big part of our work at Cultivation Warehouse comes from repeat business from clients who have been producing cannabis for decades.  We take special satisfaction in knowing that we've been able to play a part in the continued success of some of the pioneers in the industry who have maintained their vision to produce some of the best products on the market.
Airfield Supply Company in San Jose, California is a long-standing producer and provider of medical cannabis to Silicon Valley.  Chief Cultivation Officer Noah Sweeters leads a team filled with commercial cultivation expertise who share a passion for the plant and  the craft and a joy of life.  A passion for growing the plant along with a propensity for enjoying it has been key to their continuing success.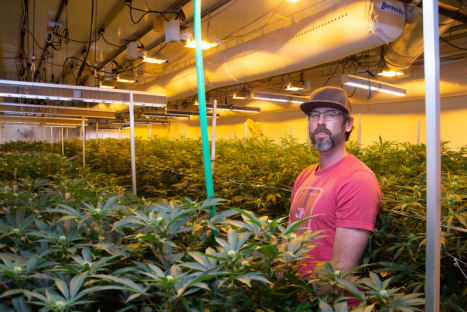 Chief Cultivation Officer Noah Sweeters
Here's what they had to say when we asked them about the journey:
We are a Craft-flower brand with over 50 years of cultivation experience. What started out as a few friends wanting to help out their parents fight off cancer has grown into Airfield Supply Company, a top notch Bay Area cannabis dispensary that manages a large scale vertical grow operation and dynamic retail experience.
The crew here in the cultivation department has been able to compete in the toughest cannabis market in the world by utilizing a vertically integrated model with the retail side of Airfield Supply Company. We have a solid lineup of heirloom strains that have created consistency for our patients and customers over the years. We specialize in Sativa dominant hybrids. With those strains we have been very successful in creating inhouse crosses that align with our indoor techniques. 
Things have changed a lot since 2010 in California, but our love and care for our craft has not; coupled with state of the art technology and techniques keep us on the cutting edge of our blooming industry. 
Through all the ups and downs of the everchanging cannabis landscape from medicinal to all adult access, the one stable constant has been the knowledge and expertise of the team at Cultivation Warehouse. 
We are here to grow the best – which requires time and dedication. We focus on every stage of the process from selecting the best clones to the best possible nutrients and growing environments. 
Consistency at the highest level wouldn't be possible without a solid supply chain and Cultivation Warehouse has always been #1 for getting our questions answered about new products and maintaining the best possible pricing for our longstanding recipe of nutrients. 
Our facility is not a typical indoor growing environment. We have very limited ceiling heights and the flowering rooms are all above the retail sales floor. The grow facility design is crucial to minimize leaks and floods to almost zero. This wouldn't have been possible without the help and support of the team at CW. They were able to source specific requested products that weren't even being produced at the time of design and construction. They had key information and suggestions to help the roadblocks get smoothed out and help keep our timeline on course.
If you're passionate about your process the team at Cultivation Warehouse is ready to help in any way we can.  Contact us today to see how we can.